Celebrating Mahakavi Bharathiyar – The Eternal Tamil Poet
December 13, 2021
2023-09-10 17:47
Celebrating Mahakavi Bharathiyar – The Eternal Tamil Poet
Celebrating Mahakavi Bharathiyar – The Eternal Tamil Poet
Born and brought up at Ettayapuram in the then Tirunelveli district, Chinnaswami Subramania Bharathi was a poet, writer and journalist. He led the Indian independence movement from the forefront in Tamil Nadu. He is also a social reformer. His poems and songs were highly influential. He kindled the nationalistic and patriotic sentiments among children and adults through his poems. 
Early Life of Bharathiyar
Bharathiyar was born to Chinnasami Subramaniya Iyer and Lakshmi Ammal on December 11, 1882. Bharathiyar was called 'Subbaiah' when he was a child. Bharathiyar lost his mother when he was just 5 years old. He also lost his father when he was 16. He started writing poems and songs when he was 7 years old and he learnt music when he was 11 years old.
Why was he called 'Bharathiyar'?
Bharathiyar started writing poems and songs when he was 7 years old. He evolved to be a national poet in a quick span of time. When he was  11 years old he challenged the well-educated, high-calibre men in the assembly of scholars. He called them for a contest where they should win a debate with him where the topic will be announced on the spot. They should be equipped to battle him unprepared. The competition was held in the Ettayapuram Durbar in the presence of the Raja (King) himself. The topic was 'Education' and Bharathiyar eloquently delivered his debate. It was then he was called 'Bharathi' which eventually became the respectful 'Bharathiyar'. 
Bharathi: A nationalist 
Bharathi transformed himself into a nationlist when he motivated people to join the Independence movement through his poems and articles. His compositions were under a broad range of themes from social, patriotic, to devotional. 'Kannan Paattu', 'Kuyil Paattu', and 'Panchali Sabatham' speak volumes about Bharathi's great patriotic and nationalistic output. 
He also published his first book 'Sudhesa Geethangal' in 1908. He was not just proud of the achievements of the country, but also put forth his vision for a free India. His poems were energetic and euphoric, that lakhs and lakhs of people were inspired to join the Indian Independence movement. 
Bharathi: A journalist
Bharathi began his career as a journalist in 1904 when joined as a sub-editor of 'Swadesamithran', a Tamil daily in 1904. In 1907, he was the editor of India, a Tamil weekly, and Bala Bharatam with M.P.T. Acharya. He has worked in many renowned news media houses including The Hindu and Chakravarthini. Bharathi published his poems on a regular basis in these magazines. He wrote on diverse subjects from spirituality, nationalism, patriotism, children, God, to the Russian and French Revolutions. Bharathiyar was always inspired and moved by the French revolution. His work in India was highly appreciated. It was the first journal in Tamil Nadu to publish cartoons. It took Tamil journalism to new heights when India journal published three slogans of the revolution – Liberty, Equality and Fraternity.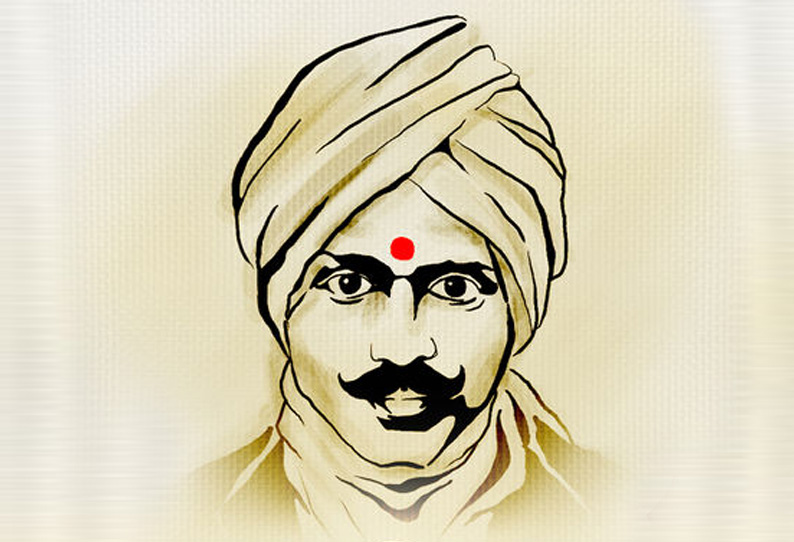 Bharathi: Freedom fighter
V.O. Chidambaram Pillai was arrested in 1908 when he refused to accept the conditions put forth by British officials. Suramaniya Bharathi appeared in the court to question the case and as evidence against his arrest. The proprietor of the India magazine was arrested in 1908. Bharathi also prospected his arrest and he moved to Pondicherry to escape the arrest. From Pondicherry, he continued to write, edit, and publish in journals including India, Bala Bharatham. The British first tried to suppress him by stopping the remittances to the dailies and weeklies. When it failed to succumb, they finally banned the publication of the journals in 1909.
Bharathi: A national leader

In his work on 'Panchali Sabatham' – பாஞ்சாலி சபதம் based on Mahabharatha, he portrayed Draupadi as India, British to be the Kauravas, and the freedom fighters as Pandavas. 'தர்மத்தின் வாழ்வு தன்னை சூது கவ்வும். தர்மம் மறுபடியும் வெல்லும்' a phrase in Panchali Sabatham holds relevance even today. It's commonly used by people and politicians to advocate for the fact that though at times charity and goodness might be won by guile and ruse, goodness would prevail eventually.
Bharathiyar also organized a public meeting in 1908 to celebrate the 'Swaraj Day'. During the event he distributed pamphlets carrying his poems on 'vandhe mataram', 'Enthayum thayum','Jaya Bharath'.
Fondly called as 'Mahakavi', Bharathi had the opportunity to meet, interact and work closely with various national leaders including Lajpat Rai, Aurobindo, and V.V.Subramaniam Aiyar, when he was in Pondicherry. He also worked with Aurobindo in his journal 'Arya'. He met Mohandas Karamchand Gandhi in 1919 at Rajaji's home and became a tall leader in the minds of the Indian people. He was advocating nationalistic movements and principles throughout his 10 years of stay in Pondicherry.
Bharathi: A reformer who advocated against caste and women discrimination
When Bharathi was in Pondicherry, he was inspired by the work of Sister Nivedita, who is a disciple of Swami Vivekananda. From then, he started advocating for women's rights and against caste discrimination.
He strongly voiced against marrying women early off in their lives, and was against dowry. He was against discriminating human beings on the basis of their caste and creed. He supported widow remarriage.
He advocated for the entry of dalits into temples. He was very strong in what he believed to be true. He believed that India may not be able to achieve freedom and independence without being united on all fronts. He called for Indians to unite beyond caste, creed, gender and religion.
'சாதிகள் இல்லையடி பாப்பா! – குலத்
தாழ்ச்சி உயர்ச்சி சொல்லல் பாவம்!
நீதி உயர்ந்த மதி,கல்வி-அன்பு
நிறை உடையவர்கள் மேலோர்.'
From the famous, 'பாப்பா பாட்டு', is quoted even now in schools and amongst children to instill a sense of oneness. The ones who are really superior are those who are wise, just, well-educated and loving.
B
harathiyar: A man with multifaceted talent
Bharathiyar mastered multiple languages and was a polyglot. He read and wrote in English, Sanskrit, Hindi, Malayalam, Greek, Latin, French, Urdu, etc. Yet, his love for Tamil stands out when he says 'யாமறிந்த மொழிகளிலே தமிழ்மொழி போல் இனிதாவது எங்கும் காணோம்', meaning there is no language as sweet and beautiful as Tamil language.
He has written on a diverse range of topics and issues. His love for animals, birds, and natural elements is evident when he says,
'காக்கை குருவி எங்கள் ஜாதி
நீள்கடலும் மலையும் எங்கள் கூட்டம்
நோக்கும் திசையெலாம் நாமன்றி வேறில்லை
நோக்க நோக்க களியாட்டம்'
Meaning that birds, ocean and mountains belong to one and that the Indian people should unite like every other element on earth.
Bharathiyar: The eternality
Bharathiyar sacrificed the majority of his life to the freedom movement and reforms. He and his family lived in poverty as he was unable to publish many of his works, poems and writings. He was arrested for feeding a temple elephant. He suffered illness and this amplified his weakness. He passed away at the age of just thirty-nine. Yet, he lives in the hearts and minds of people even after decades through his poems and writings. He was the first Tamil poet whose works were nationalised.
We celebrated Mahakavi Bharathiyar's birthday at Powerkid. Amidst the busy lives, we should take a moment to introspect his writings, preachings, and his ideals.