How to learn Tamil through online Tamil classes?
December 28, 2021
2021-12-28 15:04
How to learn Tamil through online Tamil classes?
How to learn Tamil through online Tamil classes?
Learning to speak, write and read in Tamil can be done from just being bound inside your homes. All that you need is the passion to learn and update your language skills. Tamil language is one of the oldest Dravidian languages spoken by people across several parts of the world. 
Why should you learn Tamil language?
Learning Tamil through Tamil online classes helps you 
Widen your exposure to the world
You get an opportunity to access Tamil literature and culture. The literature and heritage that the Tamil language holds is very vast and rich. 
Establish your connection to the native
A lot of immigrants feel that they have lost their native lineage and all that they envision is to help their children maintain the native connection. For such people, language is the key and online Tamil classes are a boon. 
Communicate with the Tamil diaspora    
Tamil diaspora is spread across the world. Tamil is spoken by 80 million people around the world. Learning Tamil may help you establish a strong connection with them. You get an opportunity to exchange your thoughts and ideas in your native language.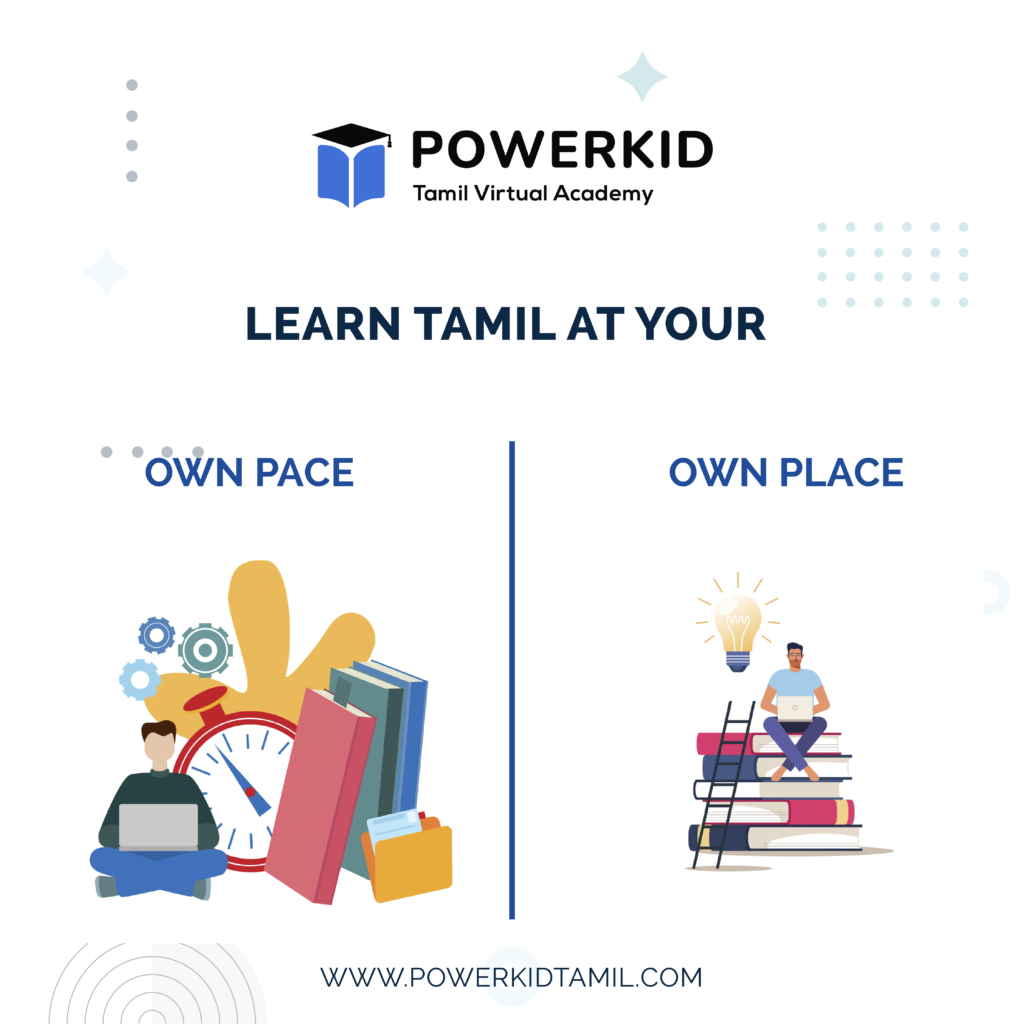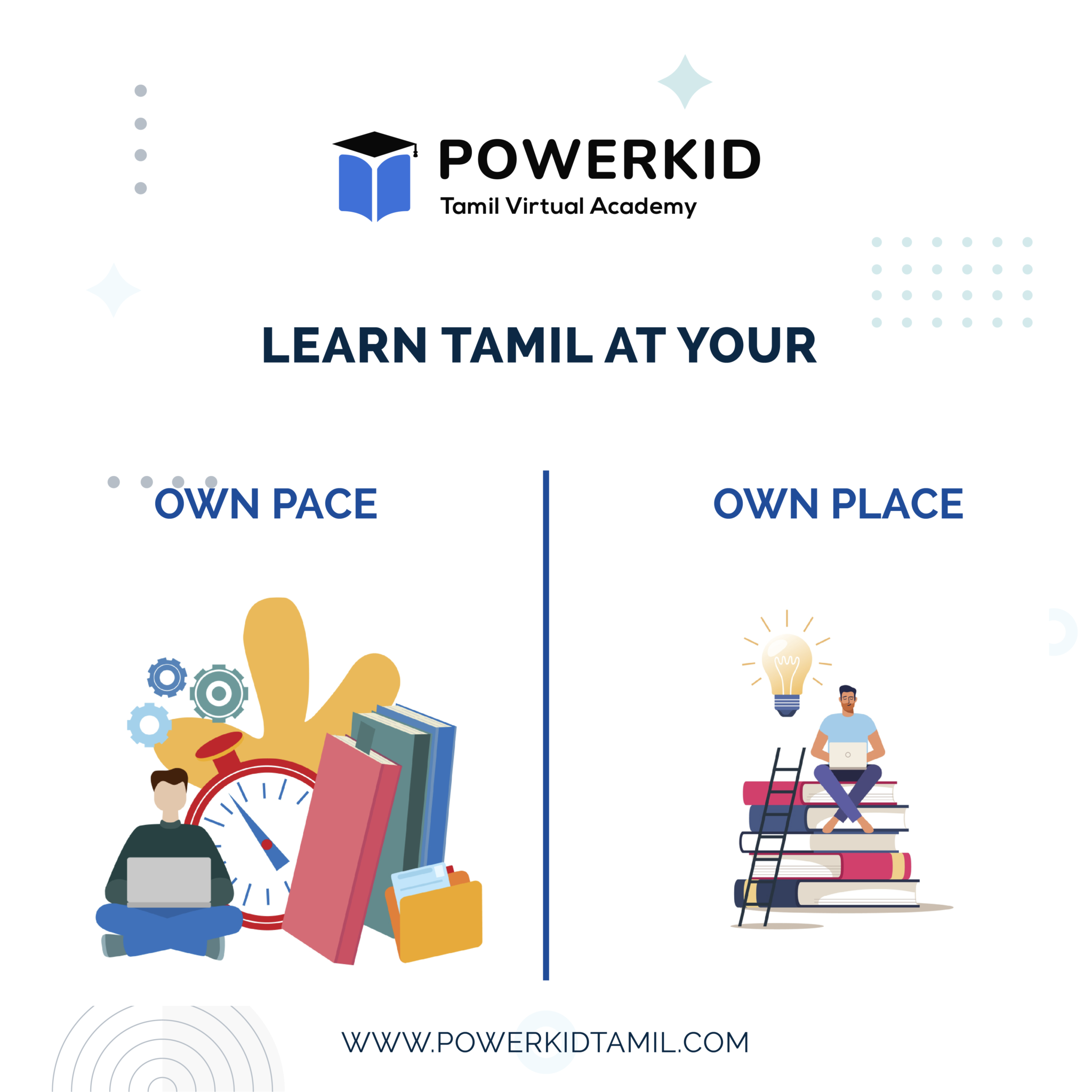 How to learn Tamil language from home?
Colearn with your child
Very often we are asked this question from the parent – "I do not know how to write or read in Tamil, but I would like to expose my kid to the language. What should I do?"
We recommend that under such circumstances, you shall co-learn with your child. Enroll to our Tamil online classes, and learn the language as a parent-child duo. 
Interact in Tamil as much as possible
The best way to master a language is to build interactions consciously. Converse in Tamil as much as possible. Speak more with people of similar interests. Look for people who know Tamil and start communicating with them. Do not feel bad about making mistakes as you read and write. All that you have to remember is your goal and accelerate your progress to achieve your pursuits. 
Enroll yourself to an online Tamil course
The easiest way to master Tamil is to admit yourself to an online Tamil class. By doing so, you stay on track and you have someone to guide you always. By admitting yourself to Tamil online classes, you get an opportunity to make mistakes as well learn ways to correct them. At Powerkid Virtual Tamil Academy, we conduct one-on-one, online Tamil classes and are open for anyone with a passion to learn Tamil language. No age restrictions. 
Adopt unique strategies and approaches
While picking an online Tamil class for yourself or for your child, make sure that you do enough research to find one that adopts unique, innovative teaching methods. At Powerkid, during our online Tamil classes, we adopt a proven framework called the L-S-R-W framework. As a part of this framework, we help the learner get through each step of the learning process – Listening – Speaking – Reading – Writing in Tamil. The courses are conducted as per the requirements of the learner. Suppose that your kid is already a master in the basics, we let you choose advanced levels. You are free to start from wherever you left and whatever you desire. The outcomes of the Tamil online course at Powerkid is also customized. For example, if you are a student struggling to learn Tamil language as a subject, we focus on helping you gain higher scores in academics. If you are a non-resident Indian and are interested in helping your child learn the basics of speaking, we are open to helping him/her understand the basic usage of the Tamil language. Customization is our strength!
Make use of online Tamil learning resources
This world is driven by digitalization and technology. There are a plethora of resources available online to help you learn Tamil language effectively and quickly. They can be an effective supplement to the Tamil online courses. You can look up videos, books, and other learning resources. At Powerkid, we offer exclusive access to unique learning resources curated by our native experts to everyone who enrolls in our online Tamil classes. We also offer a lot of free materials and resources to help everyone gain access to the basics of the Tamil language.
Watch more Tamil movies
Studies show that the more you hear and listen to the Tamil language, the easier it is for you to grab the Tamil language skills. Watch a lot of Tamil movies. Choose movies that are a treat to your taste. Watch movies that are a bit slow as they help you perceive the essence of the story as well as the language. Some people may prefer watching jokes. But as a beginner watching just the jokes from a movie may not help you learn the language skills. As comedies are usually fast paced and as a beginner to Tamil, it would be hard for you to grab the hold of the scenes. Moreover, most comedies hang on to a particular slang and it might be difficult for you to comprehend the words used as well as the joke in itself.
Practice more and more
Consistent practice is the key. You may lose the hold of your language if you don't speak after learning. Opting to learn from an online Tamil class might help you here in this regard. As you would be on track unconsciously, you would also be practising as you speak to the Tamil tutor who is a native language expert. Don't be afraid to speak the language. In case you do not understand what the tutor is saying, you are always free to ask for clarification or a translation.
Make more Tamil speaking friends
The more you listen to Tamil, the easier it will be for you to understand and learn the Tamil language. Make more Tamil speaking friends for they would be a source of learning for you. Make more conversations and interactions with them in Tamil. Feel free to ask for their help in translation when you don't understand the language as they speak. This would help you gain speaking and reading skills unconsciously without any humongous efforts. This could also serve as a source of supplement to your Tamil online classes.
Sign up to online Tamil classes at Powerkid Virtual Tamil Academy– the world's largest online Tamil language academy catering to the Tamil diaspora from across the globe.